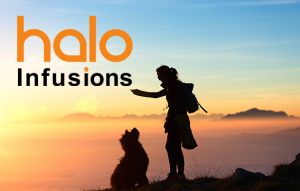 About Canine CBD Therapy
Halo Infusions is a pioneer in cannabis infusion therapies with more than a decade of experience building products that improve the well being of patients. We're combining our passion for infusion science with the dedication to do the same for our canine best friends.
Our Canine CBD Therapy products are specifically formulated to improve your pet's well being by providing the benefits of CBD and the entourage effects of Full Spectrum Hemp Oil. The benefits are literally felt.
Halo Infusions began its journey as Arizona's first Cannabis Infusion Kitchen in January 2013 and has been a leading manufacturer of infused edibles and topicals ever since.  In its ten years existence, Halo Infusions has won more than 50 industry awards for its products and business operations and served tens of thousands of patients and adult use consumers.
Operating under the stringent regulatory rules of the Arizona Marijuana program and the state's Department of Health Services, Halo Infusions manufacturers more than 60 products across six different product lines ranging from baked goods, candies, chocolates, topicals and tinctures.  It was that experience, and recent advances in scientist's understanding of canine physiology that led us to develop our family of CBD Relief products.
At Halo Infusions, evidence-based science and current good manufacturing practices define all that we do. Our product research and development team, industry partners, and healthcare and science advisors are working to develop next generation products to improve the well being of both ourselves and our canine friends.